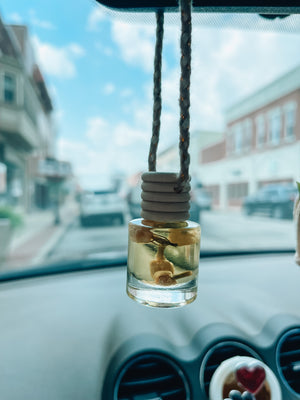 Car Diffuser
5ML.
READ: wipe up any spills right away and only use as suggested - hung by the rear view mirror.
How to use:
remove wooden lid and remove the stopper.
Replace the wooden but not too tight 
tip bottle upside down for a few seconds so oils soak into lid and ropes
replace the stopped if desired. Hang & enjoy 
SCENT DESCRIPTIONS:
Black Sand Beach: sea salt, amber musk
Sea Salt & Orchid: Sea salt, tonka bean, fresh florals
Coconut & Rose: coconut milk, roses
Guava & Strawberr/island guava: guava, strawberry, passion fruit 
Spellbound: Cherry Blossom, grape fruit, hydrangea 
Mendocino: Spearmint, eucalyptus, sea salt 
Mango & Coconut Milk: mango, coconut milk, sugar 
Desert Blooms: agave, patchouli, aloe, florals 
High Tide: salt water, ozone, jasmine 
Golden hour: santal, ginger, sandalwood 
Grapefruit + Garden Mint: grapefruit, mint, passion fruit 
Honeysuckle Jasmine: ginger, lemon peel, honeysuckle, jasmine  
Vanilla Woods//DUSK: vanilla, lavender, smoke, woods 
 Nectar : stone fruit, blooming Jasmine, vanilla, patchouli 
Gather: apple cider, falling leaves, crisp air
Honey Spiced Pear: Anjou pears, acacia honey, cinnamon , lemon zest 
Autumn Fig: ripe figs, brown sugar, maple , vanilla 
sweater weather: Macintosh apples, market peaches, fresh mint, white musk 
 They are toxin free- pthalate , paraben free and California prop 65 compliant . They are essential
Oil Based and blended with certified clean fragrance .